SUNSEEEKER 55 MANHATTAN NEW YEARS EVE
CHARTERS DUBAI
NEW YEARS EVE
SUNSEEKER 55 MANHATTAN
Your Ultimate New Year's Eve Yacht Experience
A Grand New Year's Eve Celebration on the "Outlaw" Yacht
As the year draws to a close and the anticipation of a fresh start builds, there's no better way to ring SUNSEEKER 55 MANHATTAN YACHT FOR CHARTER in the New Year than aboard the luxurious "Outlaw" yacht. This meticulously crafted vessel promises an unforgettable New Year's Eve celebration set against the stunning backdrop of Dubai's iconic skyline.
Exquisite Cabins
The "Outlaw" offers the epitome of comfort with its thoughtfully designed cabins. It boasts 1 Master cabin, 1 VIP cabin, and 1 Twin cabin, ensuring that you and your guests have spacious and private accommodations to relax in during your voyage. Whether you're looking for a moment of solitude or a cozy gathering with friends, these cabins provide the perfect setting.
60ft of Luxury
This 60ft Sunseeker yacht is a true masterpiece of design and engineering. Its sleek exterior and lavish interior are a testament to its pedigree. Step aboard, and you'll be enveloped in an atmosphere of opulence, making every moment aboard "Outlaw" feel special.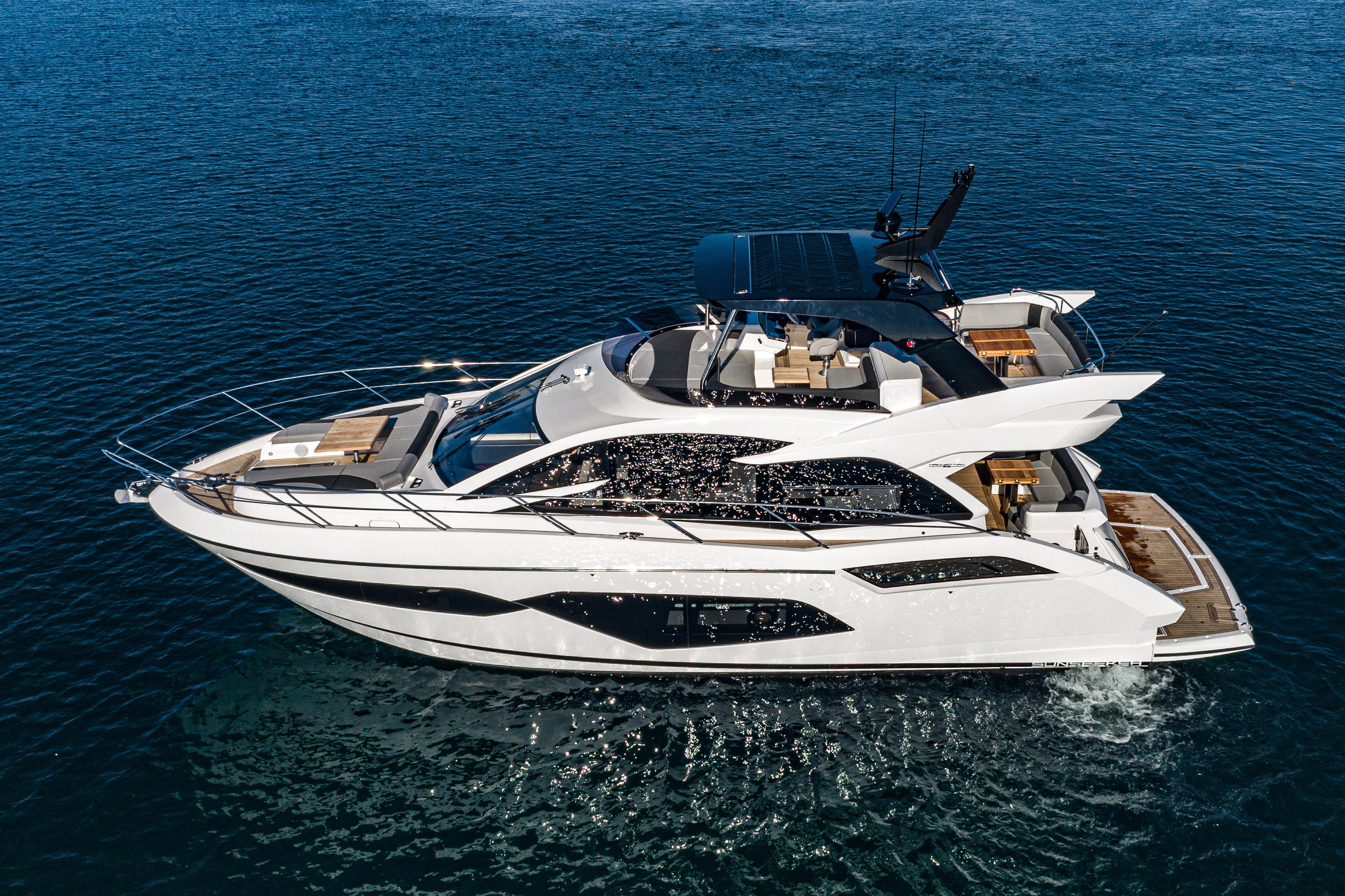 Inclusive Package
Your SUNSEEKER 55 MANHATTAN YACHT FOR CHARTER for New Year's Eve package aboard "Outlaw" is designed to elevate your celebration to new heights. It includes:
Decorations: Immerse yourself in the festive spirit as the yacht is adorned with tasteful and celebratory decorations, setting the perfect mood for your New Year's Eve festivities.
Champagne Toast: Raise your glass to new beginnings with a complimentary champagne toast precisely at the stroke of midnight, marking the start of a promising year ahead.
Bose PA Sound System: Dance the night away to your favorite music with the utmost clarity and quality, thanks to the cutting-edge Bose PA Sound System on board.

AED 25,000 + VAT for 6 Hours of Pure Luxury
For an all-inclusive rate of AED 25,000 + VAT, you and your guests can revel in the extravagance of "Outlaw" for a full 6 hours on this special New Year's Eve celebration.
Don't miss this exclusive opportunity to create cherished memories with friends and loved ones. Secure your reservation today to ensure you're part of this exceptional New Year's Eve experience. Welcome the new year in unparalleled style, surrounded by the elegance and luxury that only "Outlaw" can provide.
Contact us now to reserve your spot aboard "Outlaw" and make your New Year's Eve celebration a truly extraordinary one.
AED 25,000 + VAT | 6 Hours Rate
12 guests
1 Master, 1 VIP, 1 Twin
Cabins:

1 Master, 1 VIP, 1 Twin

Crew:

British, Ukrainian, South African

Day time:

12

Build:

Sunseeker

Length:

18m (60ft)

Overnight Guests:

6
SUNSEEEKER 55 MANHATTAN NEW YEARS EVE
SUNSEEEKER 55 MANHATTAN NEW YEARS EVE
SUNSEEEKER 55 MANHATTAN NEW YEARS EVE